ABOUT BREAKERS BY THE SEA
About Us

Breakers by the Sea is a family-owned, ocean front motel in a prime location right across from the beach! We offer spectacular views at affordable rates. Spend a peaceful night indoors by the beach eating dinner with your family or friends. All our rooms have kitchenettes which have a full stove or hotplate, a refrigerator, toaster, coffee maker, and a microwave. Contact our ever-helpful and courteous staff to learn more. Book directly with us to save on your vacation!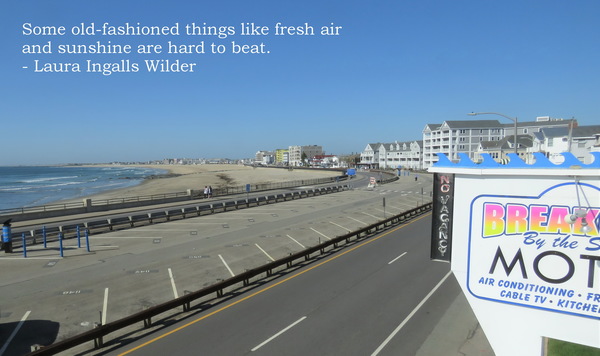 About the Area

Hampton Beach is a village district and beach resort on the Atlantic Ocean within the town of Hampton, New Hampshire. There are great restaurants, shopping and family-friendly activities nearby. The beach also has nightly entertainment hosted by the Chamber of Commerce. Breakers by the Sea is located on Ocean Boulevard, the main avenue along the beach, which is an award-winning State Park with beautiful, sweeping views of the Atlantic Ocean. It will not take you long to realize why Hampton Beach has long been considered a vacationer's paradise. For current conditions at the beach, check out the webcam:
This picture shows what we see on the horizon from our balconies. We are facing due south so we have a panoramic view of Cape Ann, Massachusetts: "The Other Cape."

We are located at 42° 56' 6" North and 70° 49' 6" W
| | |
| --- | --- |
| Hampton Beach Latitude: | 42.91131 |
| Hampton Beach Longitude: | -70.813482 |
| Latitude DMS: | 42°54'40.72"N |
| Longitude DMS: | 70°48'48.54"W |
Mileage chart to various places via car, boat, or plane"
North
Portsmouth - 15
Kancamangus Highway - 90
Mt. Washington - 123
Quebec City - 346
North Pole - 3660
East
Isles of Shoals - 10

Fisterra, Spain - 3045
Sofia, Bulgaria - 4490
South
Atlantic Ocean - 75 feet (depending on the tide).
Rockport (via boat) - 18
Rockport (via car) - 37
Boston - 47
Martha's Vineyard - 137
Santa Domingo, Dominican Republic - 1689
South Pole - 8777
West
Keene - 95
Saratoga Springs - 200
Niagara Falls - 490
Mississippi River - 1025
Pacific Ocean - 2660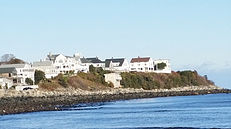 Breakers by the Sea Privacy Policy


Breakers by the Sea agrees to not sell or provide any information about our visitors to any 3rd party. All information gathered through reservations or the use of this web site will be used solely for internal purposes.